Fixed component
in our PQ product portfolio:
PQ meters, PQ analyzers & power factor controllers.
PQube 3
The BR7000-I (single-phase) reactive power controller expands the range of reactive power controllers by sensibly combining the features of the proven BR6000 type series with the advantages of better visualization of the BR7000 type series. The larger graphic display allows a clearer programming and an extended display representation like large display in the display mode and the representation of different parameters in the bargraph mode. By additional use of an "ESCAPE" key it is now possible to navigate backwards in all menus. The "HELP" key allows interactive help in the respective menu item. The controller is characterized by its user-friendly designed user interface by means of menu-guided plain text display. The display of various network parameters, the storage of different values as well as the possibility of a test run allow an easy error analysis and system monitoring. If required, automatic initialization is possible, which reduces commissioning to a minimum.
General
Voltage monitoring for networks with 16.7 Hz/50 Hz/60 Hz- 400 Hz, in single-phase systems 69 V ~ 480 V (L-N), in three-phase systems 100 V ~ 600 V (L-L) without star point and 100 V ~ 830 V (L-L) with star point
Suitable for voltage transformers
8 current inputs, 3 channels for a three-phase system for power and energy measurement
Automatic detection of mains configuration, nominal voltage and nominal frequency.
4 analog inputs, 1 digital output, 1 relay contact.
Optional up to 2 sensors for temperature / air pressure / RH.
Power supply with 24 VAC, 24 -48 VDC, PoE (Power over Ethernet) or with an optional- plug-in power supply for 100 -240 VAC.
Optional UPS module for ~ 30 min backup.
Data storage on internal 8 GB memory. removable 8 GB micro-SD card and USB- interface for data transfer to USB stick.
Color touch screen display
Mounting on DIN rail
Power Quality measurements, Class A Ed. 3
.
Certified according to IEC 61000-4-30, Class A, Ed. 3.
Recording rate with 512-samples-per-cycle.
Recording of PQ events with waveform and RMS value, output in graphs.
Under- and overvoltages, interruptions, under- and overfrequency as transient recording.
THDu, THDi & TDD; voltage and current unbalance; flicker levels (Pinst, Pst, Plt).
Harmonic current and harmonic levels and interharmonics up to 50th order.
Daily, weekly, and monthly trends with minimum/mean/maximum value
Statistical distribution curves, histograms, and more.
Automatic creation of GIF, CSV and PQDIF files.
Rapid Voltage Change (RVC).
Beyond:
Recording on waveform violation
Detection and recording of 1 MHz high frequency pulses (up to 4 MHz on one channel)
Recording of conducted disturbances in the range of 2 kHz to 150 kHz.
.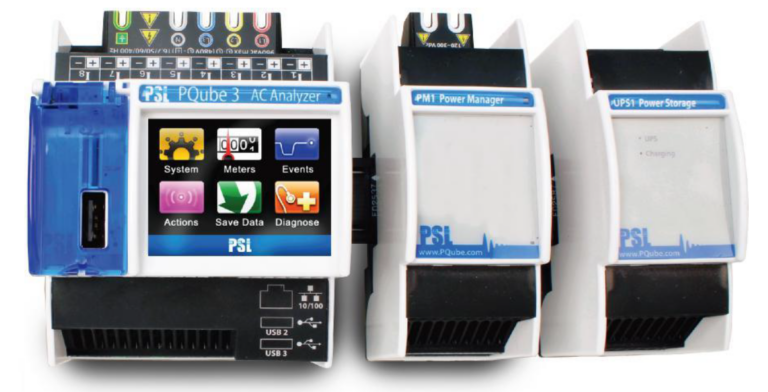 Energy (accuracy class 0.2/0.2s)
W, VA, VAR, λ, Wh, VAh, VARh. Calculates kWh in every minute!
Peak values over: 1 full wave, 1-minute, 15-minute and other intervals determined by the user
Daily, weekly, monthly trends with load characteristics.
Display of consumption values – daily, weekly and monthly.
1 A / 5 A current measurement by optional CTi-5 module. Or directly usable with ultra precise 333 mV current sensors. Wander meet accuracy requirements of IEC 62053-22 class 0.2s and ANSI C12.20 class 0.2.
Process/Enviroment Monitoring
Analog inputs for AC or DC and a digital input for measuring pressure, flow, pulses and more.
Relay outputs programmable to events.
Up to 2 optional enviroment sensors connectable via USB.
Sensors can record temperature and humidity (thresholds adjustable and permanent recording) as well as barometric pressure and mechanical shock/vibration and tilt angle.
Communication
Automatic email notification after an event.
Email dispatch of trends
Remote configuration for setup, firmware update, etc…
Integrated network interface.
Web server
FTP data server for easy data exchange.
Real-time data retrievable via Modbus TCP and SNMP (v2c and v3).
NTP and SNTP capable for time synchronization.
Optional GPS synchronization module
Configuration/Data access:
1 x USB 2.0 port for data transfer to USB stick.
2 x USB 1.0 ports for environment sensors
Replaceable SD card
No software required!
Janitza® UMG 96-PA
Reliable and comprehensive energy data acquisition
A good overview of one's energy consumption is important for companies and can be a decisive factor for success. In order to locate sources of interference and energy wasters, it is necessary to collect energy data across all company divisions and network levels.
With the UMG 96-PA, numerous energy measurement values can be collected and monitored. Thus, in addition to comprehensive energy management, the power quality can also be controlled. Through the modules, residual current monitoring is also possible, which can prevent equipment damage and production downtime.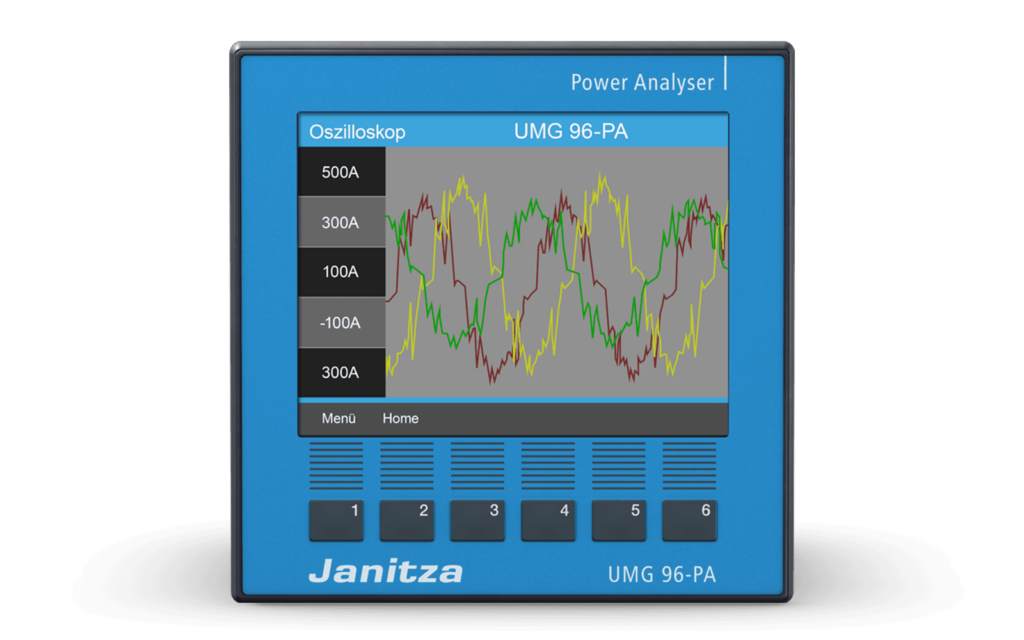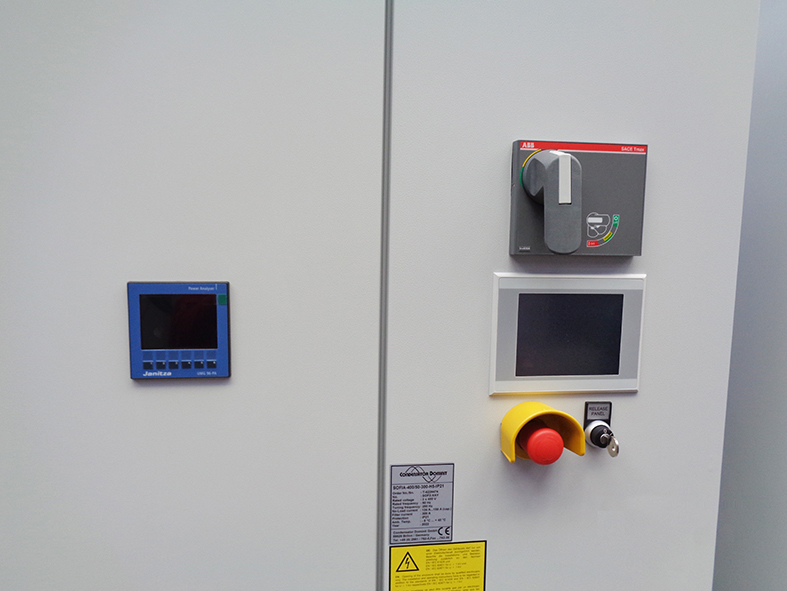 The UMG 96-PA is an integral part of our Power Quality Toolbox and is installed in every Condensator-Dominit filter circuit.
PQ Box 300, A. Eberle GmbH & Co. KG
Frequency analysis DC up to 170 kHz
The mobile power quality network analyzer, power meter and transient recorder enables permanent frequency analysis DC up to 170 kHz. The Class A instrument is designed for measurements in low, medium and high voltage networks and is ideally designed for mobile measurement operation in harsh environments and in very confined spaces. In addition, the device enables an evaluation of the voltage quality for public and industrial networks. The device is thus an indispensable support for analyses in high frequency ranges.
Technical info:
4 x voltage; 4 x current

Analog input for PE current or for a temperature sensor

permanent frequency analysis DC to 170kHz

binary input for external triggering

acquisition of more than 3000 network parameters simultaneously

One software for all PQ boxes: WinPQ mobile

Measurement accessories suitable for all PQ boxes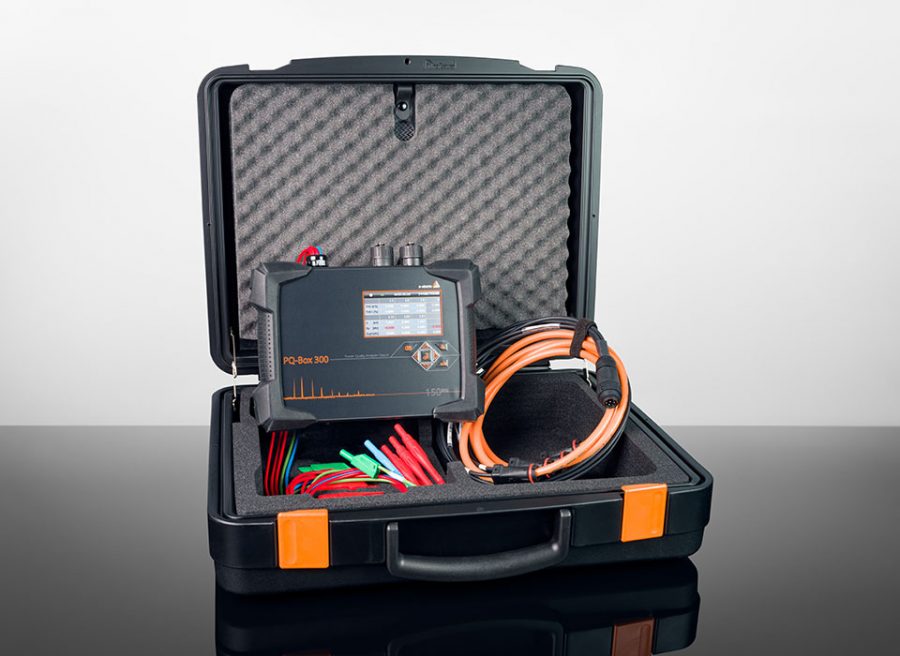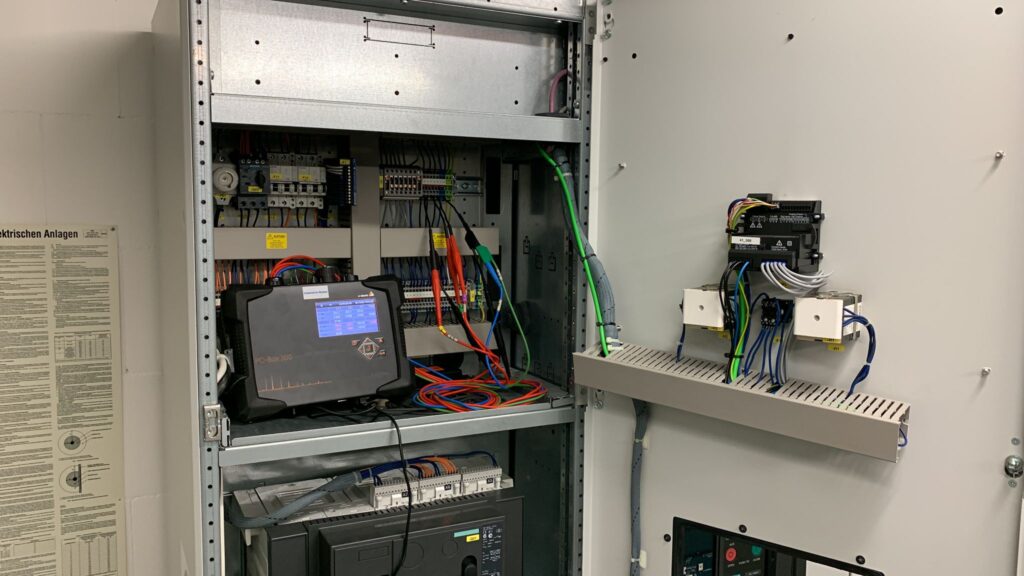 Reactive power controller BR 7000
The reactive power controller BR7000 is used in reactive current compensation systems for switching the capacitor stages. Thus, depending on the detected compensation demand and a customer-specific target, compensation stages are automatically switched on or off accordingly.
It is an intelligent, microprocessor-controlled reactive power controller. The mains current – to calculate the actual compensation demand – can be measured 1-phase or also 3-phase (via appropriate current transformers in the mains supply; with secondary currents to 1 A or 5 A). Since the power factor controller outputs power quality-relevant measured variables for each phase during a 3-phase measurement of mains voltage and mains current, it can also be used as a mains measuring device, so to speak, in this operating mode.
In principle, various control modes are available, which make it possible not only to control according to the most heavily loaded phase or the average value (of the powers) of the 3-phases, but also to implement true single-phase control (balancing) or a mix of single-phase control and conventional 3-phase control. The additional use of a graphics-capable display (e.g. MMI 7000) also enables an oscilloscope mode in which the curve progressions (instantaneous value progressions) of voltage and current are displayed graphically.
For customer-specific purposes, an interface is of course also available on the controller, e.g. to display data (mains parameters, status of the power supply). Data (network parameters, status of the compensation system …) via Modbus to receive and process in the company's internal control system.
Advantages:
Four-quadrant operation with generator characteristics possible
High accuracy of measurement acquisition and processing
Insensitive to influences of harmonics in the network (due to a built-in filter)
Different switching sequences (switching series) possible
1 alarm relay, 1 freely programmable signal relay and 1 relay for possible control cabinet fans
Measuring voltage up to 760 V AC without voltage transformer possible
Lighted graphic display 128 x 64, graphic menu guidance
Monitoring/ acquisition of capacitance loss (per stage)
Storage of switching cycles/ switch-on times of capacitors (with time stamp)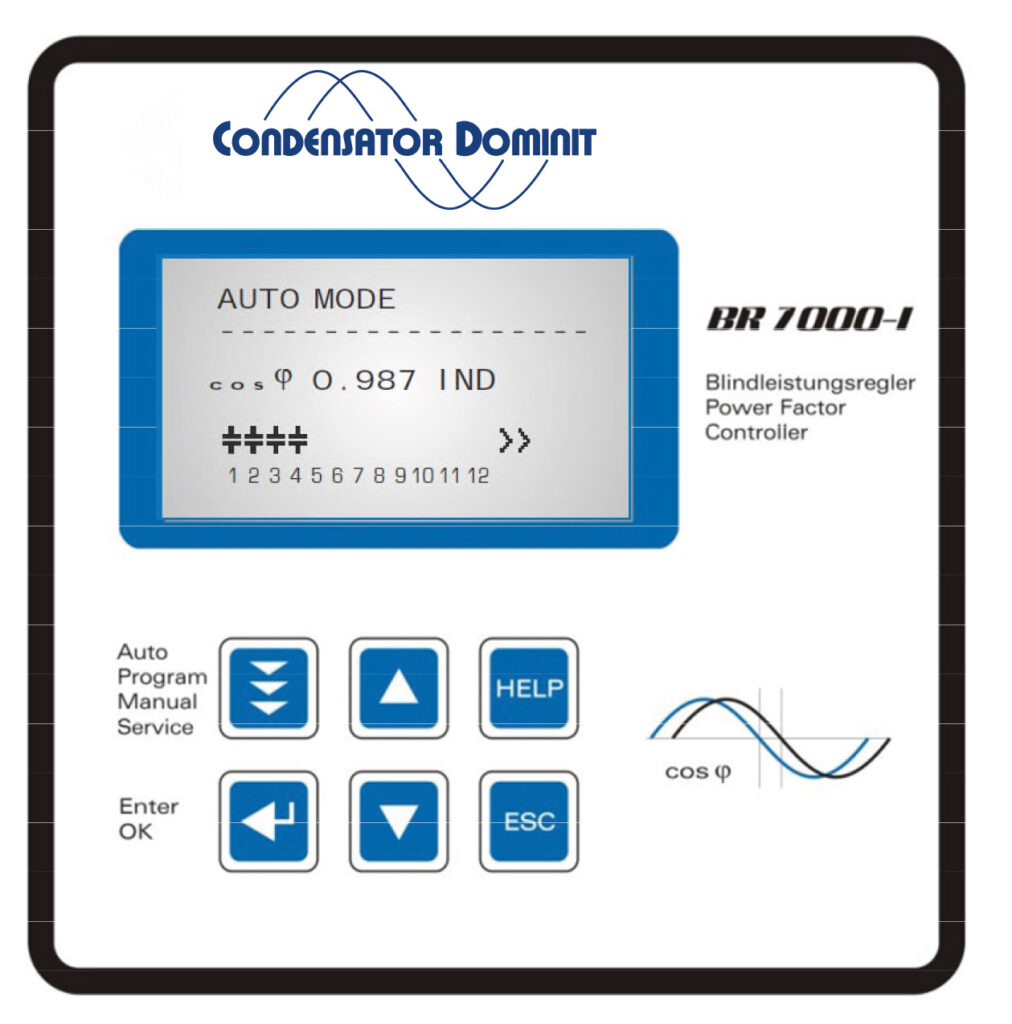 Technical information:
Type series: BR 7000-1
Outputs: 12 (13)
Menu languages: D / E / ES / RU / NL / CZ / PL / F / PT / TR / IT
Switching power of relay outputs: 250VAC, 1000W
Number of active outputs: Programmable
Display: Illuminated graphic display 128×64 dot
Design: LCD display, white / red backlit
Number of control series: 20
Free editable control series: 1
Control principle: sequential switching, circular switching or intelligent switching 4-quadrant operation
Automatic initialization: Yes
Operating voltage: 110…440 VAC, +/-10%, 50 / 60Hz
Measurement voltage: 30…440 V~, (L-N) or 50…760V~ (L-L)
Measurement current: X : 5 / 1A selectable
Power consumption: approx. 3 VA
Sensitivity: 20 mA
Target cos Phi: 0.1 ind. to 0.1 cap. adjustable
Switch-on time: Selectable from 1 sec. – 137 min.
Switch-off time: Selectable from 1 sec. – 137 min.
Discharge time: Selectable from 1 sec. – 137 min.
Fixed steps / skip steps: programmable
Alarm relay: standard
Null voltage trip: standard
Display mains parameters: Cos-Phi, voltage, reactive, active, apparent current, frequency, reactive, active, apparent power, missing kvar, temperature, harmonics, work
Maximum value storage: voltage, reactive power, active power, apparent power, temperature, THD-V, THD-I
Storage number d. circuits: Yes, each output, individually resettable
Storage of operating time: Yes, each capacitor, individually resettable
Temperature measurement range: -30°C … 100°C
Error memory: register of the last 50 errors
Accuracy: current / voltage: 1%; active, reactive, apparent power: 2%
Housing: panel mount housing DIN 43 700, 144 x 144 x 53 mm
Mass: 1 kg
Operating ambient temperature: -20 to +60°C
Protection class according to DIN 40 050: front: IP 54, rear: IP 20
Safety regulations: IEC 61010-1:2010, EN 61010-1:2010
Impedance: IEC 62053-23: 2017; IEC 61326-1:2013
EMC immunity: EN 50082-1:1997; IEC 61000-4-2: 8kV; IEC 61000-4-4: 4kV