Here you will find the necessary insights into our GridClass® Mod product range and further related power quality information:

GridClass®-Mod-Technology – Optimal for switchgear manufacturers: We supply only the filter or compensation module and the installation work or added value remains with the switchgear manufacturer. 
YOUR VOLTAGE –
OUR PASSION

GridClass®Mod is a product range consisting of innovative, modular filter and compensation systems that enable a broadband filter effect across the entire frequency spectrum, resulting in a significant improvement in the voltage quality of the customer's network. Broadband interference sources require broadband filtering measures in order to achieve an optimized power quality result. Switchgear builders in particular benefit from our modularly expandable and different filter technologies SOFIA®mod, RESI mod,
MiA®
,
SIMΩN®
and CLASSIC mod to provide their customers with the perfect filter solution.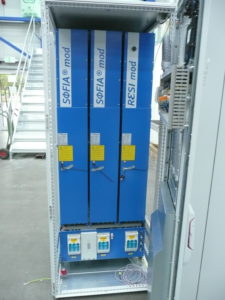 Possible module combination: With 3 modules to the broadband filter: Sofia® mod for filtering the 5 – 7 – 11th harmonics & 1 x Resi mod for attenuating resonances, commutations, transients, and clock frequencies.